What people are saying
"We can tell you that we would recommend them not only without hesitation, but with enthusiasm." Full reference
"Alicia and Kevin Shea rank among the very best." Full reference
"We leave, and we have no worries ..." Full reference
"Kevin and Alicia have set a new standard for house/pet sitters." Full reference
"Alicia and Kevin Shea are house and pet-sitters par excellence!" Full reference
"Alicia and Kevin were by far the best sitters we have had." Full reference
"We couldn't have been happier." Full reference
"Alicia and Kevin are outstanding." Full reference
"They have a keen sense of what people (and their pets) want and need ..." Full reference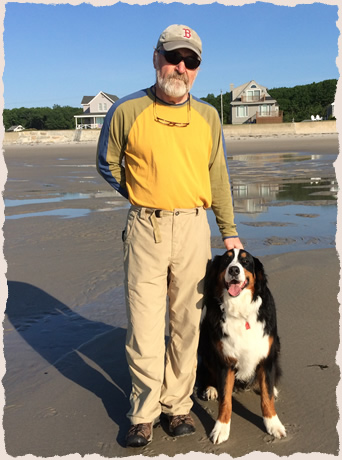 Kevin & Stella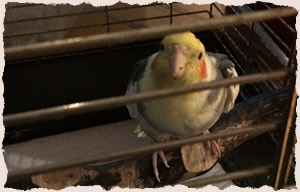 Merlin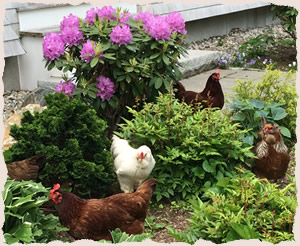 Chickens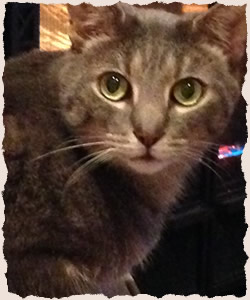 Chairman Meow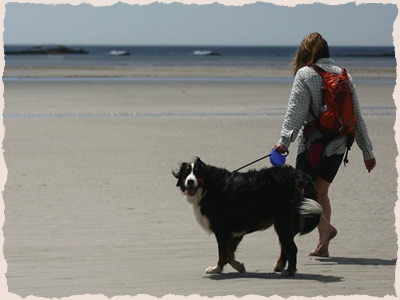 Stella & Alicia

"We can tell you that we would recommend them not only without hesitation, but with enthusiasm. They are well traveled, intelligent, energetic, and most of all caring for the animals. While we were away, we received emails nearly every day describing life at home. I have to say it feels very odd to have someone else recount the habits and idiosyncrasies of your pets which are probably unknown to all but those with whom you live. It is, though, comforting to know that they are being so well cared for. Pictures were also a plus. They took care of the property like it was their own and we had no concerns regarding valuables."
Excerpted ... read the full reference
Christian & Jennifer - Kennebunkport, ME
Multiple sits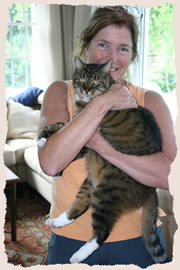 Alicia & Micestro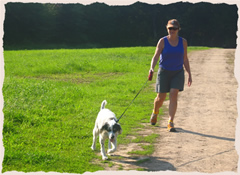 Alicia & Diva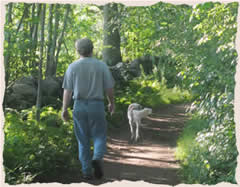 Kevin & Dublin
"In the ten years that we've been using house and pet sitters on a regular basis, Alicia and Kevin Shea rank among the very best. They are conscientious, personable, and communicative. They speak both dog and cat fluently. And they understand hot tubs, sump pumps and irrigation systems. We traveled abroad this summer without the usual worries because our house and pets were left in the Shea's able hands."
Rob & Carol - Portsmouth, NH
Multiple sits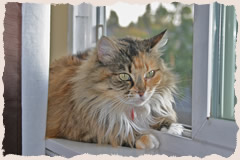 Bella
"Kevin and Alicia have set a new standard for house/pet sitters. I've used sitters several times in the past, some local, some from online, and I've never had an experience this good. They stayed for two weeks to sit my cat and watch over the house. During that time, I received frequent updates about how things were going, and even pictures to show how happy my cat was. It sure took a load off my mind knowing everything was in such good hands. I came home to find a content cat, a clean house, a nice bottle of wine with cheese and crackers, and even found some handyman repairs had been done that I hadn't even asked for! I would highly, highly recommend them to anyone looking for a sitter. They're total pros!"
Amber - Bend, OR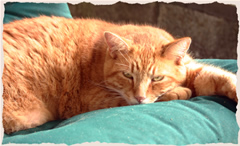 Bob
"Really can't thank you both enough for everything. We feel that we never left - Bob could not have cared less that we were home - a VERY good sign that he was very happy while we were gone and well cared for. The house and plants were as if we had been here. We are thrilled. P.S. Thanks for the dinner - yum!"
After multiple sits ... and a ten-year relationship with Kevin and Alicia ... and becoming good friends with K&A ... we can say ... "we leave and we have no worries"!
Bev & Mike - Connecticut
Multiple sits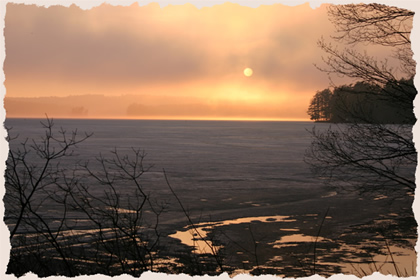 Sunset Over Ice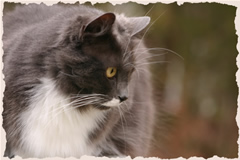 Bobbie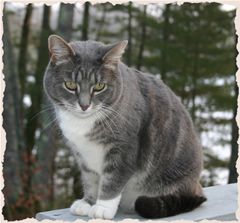 Zipper
"This was our first experience using a web site to locate someone who could do a lengthy house sit and we were nervous and apprehensive about going this route. But Kevin and Alicia stood out. Their personal site was a great introduction and it answered many of our questions quickly. They have a keen sense of what people (and their pets) want and need, they ask the appropriate questions before you even think of them, and they are thorough in their planning and follow-through. I can't tell you how this put us at ease. We felt an immediate connection.
"Our trip ended with emergencies and delays, and Kevin and Alicia were very understanding and flexible. We returned to find our home looking fabulous, and the cats stretching and yawning like we'd never left. Their attention to all things, great & small, has been outstanding. I am so thankful they were available for us."
Mary & Roger - Midcoast Maine
Multiple sits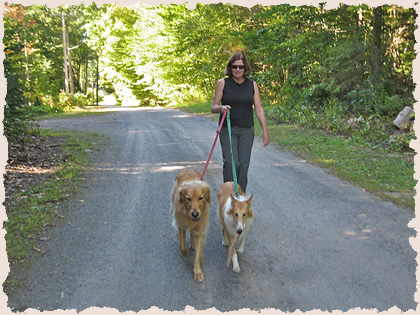 Walking Cody & Josie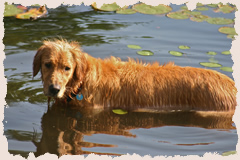 Cody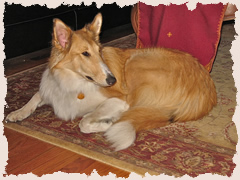 Josie
"Alicia and Kevin Shea are house and pet-sitters par excellence! They recently took care of our somewhat large lakeside home and our two wonderful but highly energetic doggies: Cody, our 3 year old Golden Retriever, and Josie, our 6 month old teething Collie. Our pets are healthy and happy as is our home, following our European trip. Alicia and Kevin kept our home and grounds clean and organized and took wonderful care of Cody and Josie, with lots of daily walks, runs, retrieving and swimming for Cody, and keeping Josie active while being sure to keep pillows and other objects of teething interest to her completely out of reach! We highly recommend this bright, active, honest, and interesting couple to you as house and petsitters."
Rosemarie & Vince - Saratoga, NY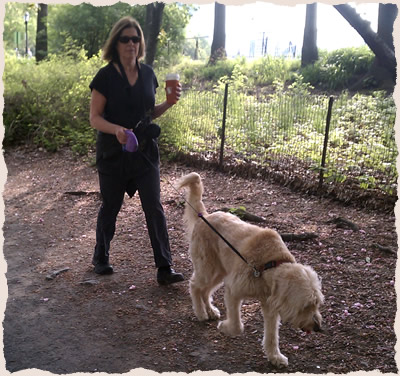 Alicia & Alfie in Central Park
Sabrina
"Kevin and Alicia took care of our 14-year old cat, Sabrina, and our 10-year old goldendoodle, Alfie for five days. They were wonderful in every way. Alicia gave Sabrina her medications twice a day, and they both took Alfie for long walks in Central Park. Alicia sent us photos daily, to help us see how our pets were getting along. When we came home, we found a delightful daily journal of Alicia and Kevin's activities, illustrated with photos of Sabrina and Alfie. I would recommend Kevin and Alicia without hesitation, and look forward to having them house sit for us again."
Terry & Robert - New York City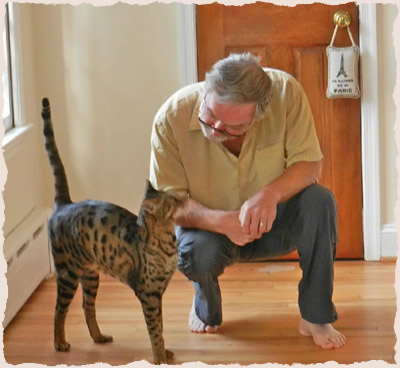 Shetani & Kevin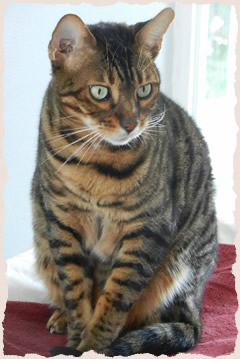 Diablo

"We wanted to thank you for taking such good care of our home and our cats and even making sure that we had a fully stocked fridge to come home to. It sounds like you bonded quite well with the Devils and Kevin, your gardening expertise is evident. We appreciate that you took the time to write a report of your activities, the house and the cats for every day of your stay."
Karina & Romain - Washington DC
Multiple sits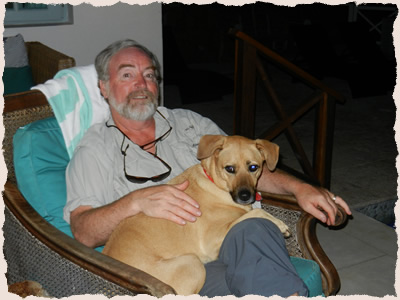 Kevin & Millie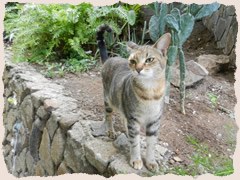 Squeaks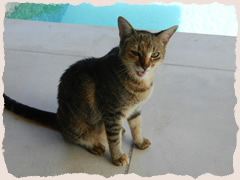 Sqeaks "Squeaking"
"Just a big thank you to you both for looking after Ravenala and inmates so well! Millie and Squeaks are moping about already missing you!"
Anne & Tim - Bequia, St. Vincent & The Grenadines
Rent the villa! Ravenala House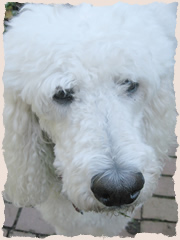 Sam
"My husband and I travel often and have had a variety of house sitters come to care for our home and our two Standard Poodles. Alicia and Kevin were by far the best sitters we have had. They were a pleasure to meet and immediately set our minds at ease. Upon our return we were delighted to find our dogs happy and well groomed, exhibiting none of the anxiety we had come to expect when we were away. They had obviously been very well cared for and perhaps even a bit spoiled! Our house was immaculate and there was fresh milk and juice waiting for us in the fridge. They also left us a detailed report complete with photos of our pets. I hope we are lucky enough to have Alicia and Kevin sit for us again- that kind of piece of mind is priceless."
Lisa & Matt - Connecticut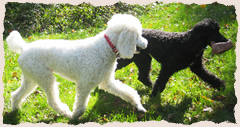 Sam & Nessie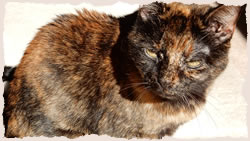 Coyote
"Alicia and Kevin took care of our two aging kitties for three weeks and all of us couldn't have been happier. One cat is diabetic and requires twice daily shots and they were able to handle him like pros. There was a bit of a learning curve and they kept us informed and asked all the right questions and handled a few blips flawlessly. We were hard to reach and even though they had challenges we felt very comfortable. Upon our return it was like we never left, the house was in better shape than when we left and the cats just yawned and looked at us like, oh you're back already????? We couldnt have been happier with their attention to detail, professionalism and genuine attitude of caring for our cats and our home. We are already trying to get on their schedule for next year."
Lynn & Jeff - Rhode Island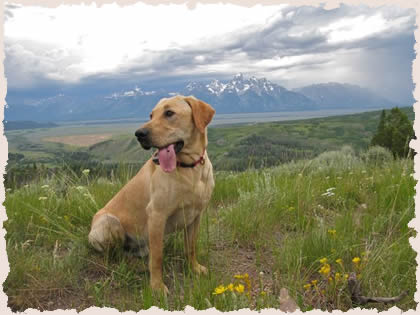 Pukka
"Thanks. If you'd ever like to sit again here, please keep me in mind."
Ted K. - Kelly, WY
See Ted's books about Pukka ...
Pukka: The Pup After Merle

Pukka's Promise: The Quest for Longer-Lived Dogs

See Ted's book about Merle ...
Merle's Door: Lessons from a Freethinking Dog
Everyone wants attention!
Alicia with Silence, Lily and Leonardo
"Alicia and Kevin are outstanding! In a record ice storm, they handled trees crashing, power outages and dangerous powerline situations, and then kindly took my three animals home with them when power was out for the foreseeable future. Use them! They're great!"
L.J. - Deering, NH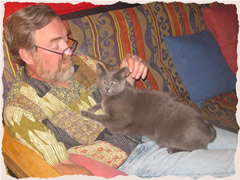 Kevin & Scooter
"Kevin and Alicia house sat for my husband and me when we were off on our honeymoon. They lovingly cared for our cat, Scooter, and made sure that she was safely inside the house at night so the coyotes could not eat her! When we returned from our long trip, she was relaxed and happy, and we were surprised and delighted to find a delicious home cooked meal in our freezer, just waiting for us to heat it up. What a welcome and unexpected treat. Yum!"
Bev - Jackson Hole, WY
Multiple sits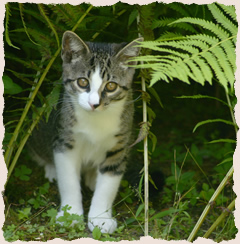 Hudson
"Thanks for helping us out with a new kitten and for spending an extra night!"
Wendy & Ralph - New Hampshire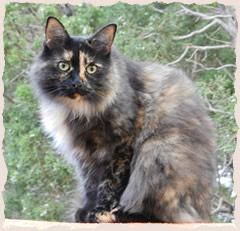 Weezie
In Weezie's words: "My food showed up in my dish exactly as it did when my people were home. I got brushed and pampered. I tried to bring my friend Lizzie (she's a lizard) inside the house to play, but no dice! I even thought I might get away with stretching my nighttime curfew a bit, but NO! Kevin and Alicia followed the rules exactly! I kept a good eye on them, and I have to say, they took care of things around the house just like my people would have done. And that is how it should be when your people go away for a bit!"
Katherine & David - New Mexico