Click on any photo on this page for a larger view
Alicia is a geek at heart
Alicia started her professional career as a scientific programmer many, many years ago. Even though she eventually moved up to executive management positions, she never lost touch with the technical side of things. Though her true passion is cooking, "geekiness" is a close second. She loves to program and figure out problems.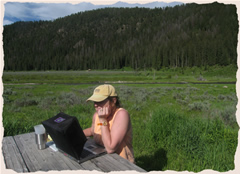 If you have any computer problems, Alicia can help you with them. From installing a wireless network to fixing your PC when it has become "just too darn slow", Alicia has done all of this for friends and family for many years. Computer slow-down is typical of a computer that has been infected with spyware and adware. Many people think they need to buy a new computer, but often times, they just need to have all the junk removed. Alicia can do that for you while you are away.
Need a website? Alicia has designed and developed websites both for herself and for clients. A sampling: Church Street Storage, Salon 455, and, of course, this site. She can build a site for you, too, at a reasonable charge. For more info, visit wallewu.com.