Click on any photo on this page for a larger view
Kevin is quite the handyman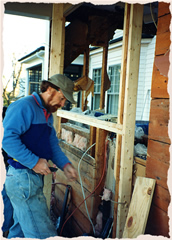 Kevin grew up in a family of blue-collar workers and learned to do carpentry, plumbing and electrical repairs working alongside his uncles who were carpenters, plumbers and electricians. These skills have come in very handy as he has performed many renovations on our 1900 Georgian colonial house, including completely re-clapboarding it, renovating the kitchen and bathrooms, painting the rooms and doing day-to-day maintenance of our home.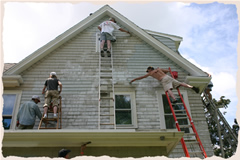 Kevin also organized a "painting party" to paint the home of one of our dear friends who had been stricken with cancer. He brought together about 40 people, and her house was completely painted in one day.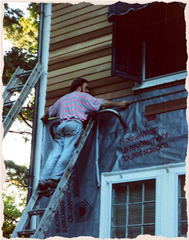 If you need some minor repairs done on your home, you can arrange for Kevin to do them. If a problem springs up while you are away (a leak, a short circuit, whatever), rest assured that Kevin knows how to take care of the problem.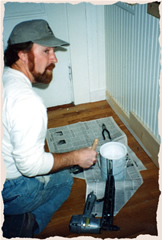 If you are currently undertaking a major renovation of your home and need someone to oversee the project in your absence, Kevin can also do that for you.
Are you in a snowy climate? Don't worry. We can take care of snow removal, too.