Reference from Christian - Kennebunkport, ME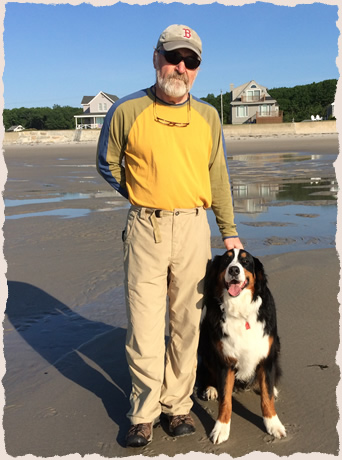 Kevin & Stella
You will be exceedingly pleased with Kevin and Alicia. They are very special people with whom my wife Jennifer and I have been lucky enough to develop a friendship in addition to the house sitting relationship.
We met Kevin and Alicia just last fall when we stumbled upon Kevin's blog about house sitting a property in Bequia – an island in St. Vincent and the Grenadines. We were headed there for vacation and loved reading about life on the Island through Kevin's eyes before we went. Only then did we learn that they were "professional" house sitters with a willingness to care for animals of all kinds. We have dogs, cat, bird, turtle, chickens, and bees. After a very pleasant evening spent discussing the prospect of sitting our house while we were in Bequia, they agreed to take us on and to consider sitting our house this coming June and July while Jennifer and I are on an extended trip to various national parks across the US.
It turned out to be the beginning of a terrific friendship and we can tell you that we would recommend them not only without hesitation, but with enthusiasm. They are well traveled, intelligent, energetic, and most of all caring for the animals. While we were in Bequia, we received emails nearly every day describing life at home. I have to say it feels very odd to have someone else recount the habits and idiosyncrasies of your pets which are probably unknown to all but those with whom you live. It is, though, comforting to know that they are being so well cared for. Pictures were also a plus. They took care of the property like it was their own and we had no concerns regarding valuables.
Since then we have had an opportunity to socialize frequently with Kevin and Alicia and now count them among our close friends. They will be taking care of our home and our animals as we head west starting June 1st and it's a great relief to us to know that virtually any situation that might arise can be handled.
I would suggest that the only problem with Kevin and Alicia may be getting on their schedule in the future.