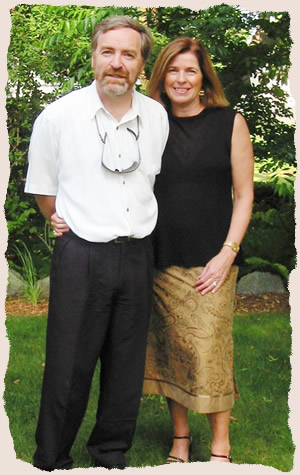 House Sitting, Caretaking &
Pet Sitting Services
We are Kevin and Alicia Shea and we'd like to take care of your home for you for a week, a month, 6 months or longer. Whatever you call it - house sitting, caretaking, pet sitting or just watching the house - we can provide the services you need.
We know that you want to feel comfortable with whom you choose to take care of your home (and your pets, too, if you have them), so we've put together this website to tell you a bit about ourselves and our capabilities.
Click on each of the items on the left in whatever order you prefer to learn about us. Hopefully you will see that we are solid, dependable people who will care for your home as if it were our own. And we can provide some additional services along the way: gardening, home repair, cooking (meal preparation and catering), pet sitting and even computer repair and maintenance. You'll see that we are very adaptable and capable in a variety of disciplines.
So please explore our website to learn a bit about us. And feel free to email us with any questions you may have or to request any additional info that you may need. Thanks for stopping by!
Update March 2014: We have now been providing services to homeowners for six years. During that time, we have helped a variety of people and their pets maintain peace of mind while the homeowners were away. We have many repeat customers, most more than a few times, and new friends. We have stayed in and enjoyed many areas that we otherwise may have, in another time, sped by on our way to somewhere else. We have found these past six years to be fun, adventuresome and certainly interesting. We look forward to more sits in different locations, making new friends and enjoying life.